Here in the islands, everyone is talking about that awful grounding of more than 50 pilot whales at North Tolsta.
The pod had been spotted the evening before frolicking, apparently very happily, in the bay out from Traigh Mhor.
What a sad sight it was on Sunday to see dozens of the dead and dying whales, as if strewn along a stretch of the sands. The sheer number of them and the distances involved meant that there was nothing that could be done for them. Just one was saved, as it was pushed back into the waves by determined volunteers and coastguards, and it eventually swam off.
Not since 1927 when an even bigger pod came ashore at Dornoch beach, which I strode along just a few months ago, has there been such a large stranding. It has all left the council with quite a headache, as it now has the responsibility of hauling away and burying these friendly creatures, which were obviously of all sizes and ages.
There is something about seeing young animals perishing that tugs the heartstrings. It should be the same for adults but, you know. I am not wiping away a tear, honest.
It got me thinking about the many beach and shore incidents that we have had in the islands over the years, involving many whales and other animals, and even inanimate objects, suddenly turning up on our shores.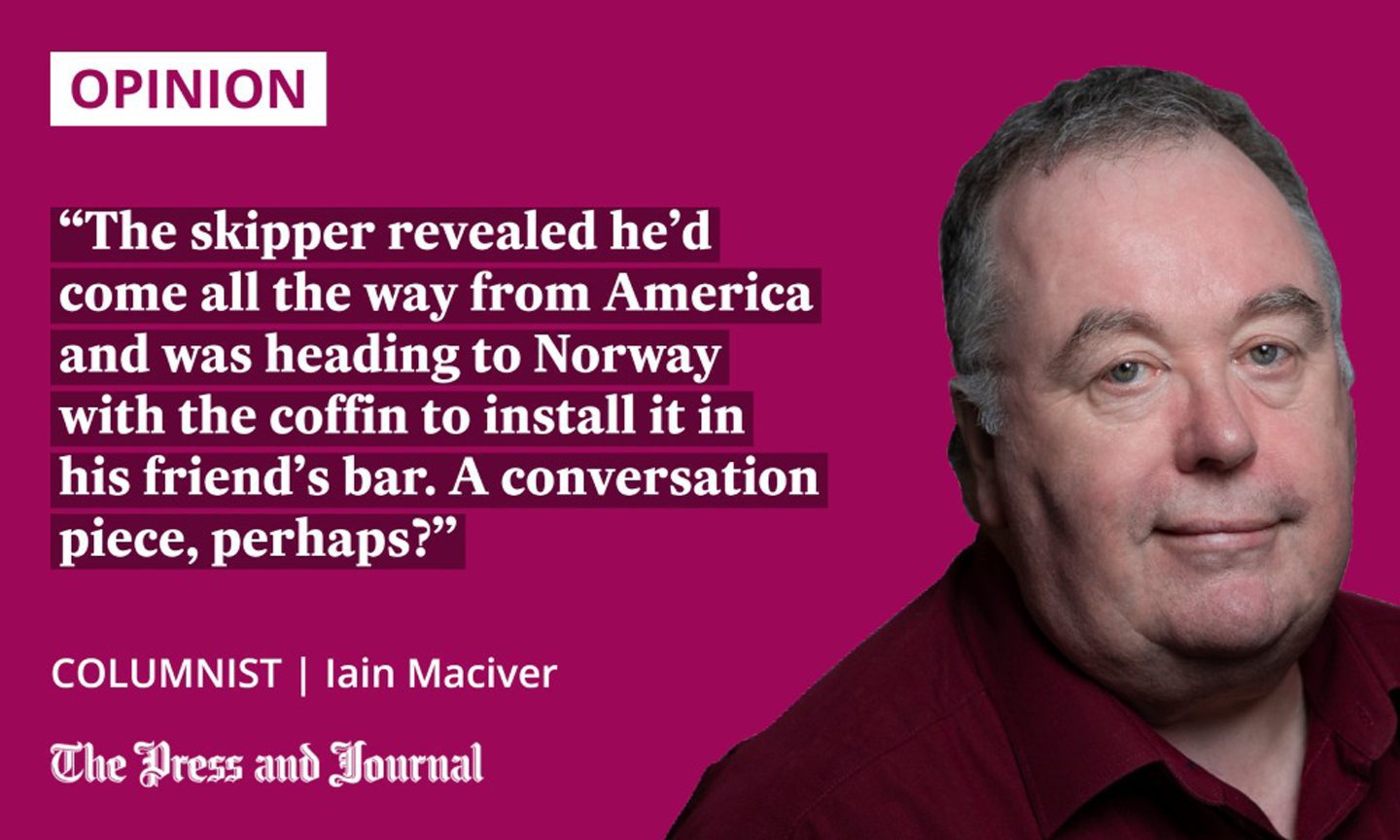 One that I particularly remember was in 2007, when a dog-walker reported that a large, cylindrical container had appeared on the shore at Stinky Bay on Benbecula. I remember going to the scene with a TV cameraman. Let's call him Michael – because that was his name.
As he stood beside this giant, 15-metre faded-yellow tank, Michael sniffed the air, knowingly. When I stood in that spot, I did, too. We just stood there, sniffing.
It wasn't a fishy smell or even the whiff of that famous rotting seaweed that gives Poll na Crann its local odorous nickname. It was something altogether more yeasty. Not beer, surely? Checking all around it in case there was a tap on it, we had to stay thirsty until we got back to the Dark Island Hotel.
Sure enough, in the following weeks, we learned that the monster beer can did, in fact, belong to the Chicago-based Coors beer company, and that it had rolled off a ship in the English Channel, probably heading to Southampton, ending up in the smelliest spot in the Hebrides.
Coors was set up back in 1873 by two switched-on German immigrants, Adolph Coors and Jacob Schueler. They established a brewery in Golden, Colorado. Their original beer was in golden cans, and their large production containers were thought traditionally to also imitate that distinctive style – not dissimilar to our own beloved Tennent's Lager. I say beloved, but… Actually, on a hot day, a can of Tennent's does wonders to clear the brain fog.
A conversation piece
One year, a small yacht came into Barra after getting lost in fog. The lifeboat towed it in. Good job. Nothing to see here, everyone said – until someone spotted something strapped to the deck.
Hey, doesn't that look like a coffin? I-i-it is. M-m-maybe there's a body in it. They recoiled in horror and called the polis.
See that coffin? It sailed across the Atlantic – but there's no one in it – honest
The skipper revealed he'd come all the way from America and was heading to Norway with the coffin to install it in his friend's bar. A conversation piece, perhaps? See that coffin? It sailed across the Atlantic – but there's no one in it – honest. Yes, I can see that would probably appeal to people of all ages.
BYOB'day
Some people can be so sensitive about their age. Mrs X has a friend who had a big birthday a while back. That lady doesn't even want her age mentioned at any time.
Mrs X read me the text inviting her to the bash. It said: "You are invited to my b'day. Bring a bottle." When she read that out, I thought they were all going to gather in the bathroom and drink out of that porcelain thing beside the loo that you use to soak your feet in or wash your socks. Isn't that a b'day?
Happily, it was just a regular anniversary of her birth party. So, Mrs X traipsed round the shops for a suitable gift. Eventually she bought a bottle of South Australian vegan and organic white wine.
When I saw it, I told Mrs X she could absolutely give that to the birthday girl, as it would draw attention to her age, but she would like it. She wondered how. I read out the label. It said: "This is a fresh and delicious wine. Best enjoyed young."
---
Iain Maciver is a former broadcaster and news reporter from the Outer Hebrides